Seasonal marketing: A guide for family wineries
How to use seasonality to effectively promote wine sales
Marketing your brand and products can often times feel overwhelming. There are so many things to consider!!!
Is my website up to date? Are those newspaper ads actually driving foot traffic? Are my wine club subscriptions growing? Are people engaging on social media?
By grouping marketing tasks into campaigns, the bigger challenge of marketing gets broken down into smaller, more manageable chunks.
What is a marketing campaign?
A marketing campaign is an organized, structured approach to promoting a company goal like sales or brand awareness. Well-planned campaigns are guided by a predetermined set of boundaries, making them easily measurable. This can be anything from a completion date to a specific customer segment to a unique visual style or tone of voice.
Marketing campaigns are usually centered around a product launch, a promotion/sale, a seasonal message, or likely a combination of these and a myriad of other things. Organizing your approach in this way will help you streamline your workflow and amplify your message.
4 steps to leverage seasonality in your marketing campaigns
The wine industry is undeniably affected by seasonality. Along with other social trends that occur throughout the year, seasonality provides an excellent opportunity for delivering your message at a time when your audience is primed to receive it. This often leads to higher returns and the easier achievement of goals.
1. Inspire your seasonal marketing campaigns with reliable data
The first step to planning a marketing campaign is to decide when you intend on running it. Take a look at the information available to you, such as tasting room sales figures or website engagement stats from Google Analytics and your ecommerce platform. Are there are any noticeable trends? Perhaps weekday evenings through the summer see the highest volume of foot traffic in your tasting room all year, or your Cabernet Sauvignon is a popular hit every December.
If the majority of your sales are still happening in the tasting room, the goal of your campaign might be to get people through the cellar door and drive offline (in-person) conversions. Both digital and traditional marketing channels offer great opportunities here. You could, for example, target your efforts locally with Google Ads, social media, or printed tourism brochures. You could also encourage your visitors to leave Yelp and TripAdvisor reviews.
2. Piggyback existing events and holidays to leverage social momentum
The term 'seasonal' needn't only apply to the four seasons. In this context, we refer more broadly to any event based around a day or period of days on the calendar. This could mean holidays such as Christmas or Easter, industry-specific seasons like harvest season or OND, non-holiday events like St. Patrick's Day or Valentine's Day, or even more personal milestones such as the anniversary of your winery.
While your own winery data provides a qualitative perspective on seasonal opportunities, there are free tools that offer a quantitative comparison. Google Trends, for instance, allows you to look up historic Google search information.
The spikes you see in the top graph show that Google searches for 'cabernet sauvignon' exponentially increase in December of every year. The chart at the bottom shows that these searches are coming most popularly from Australia and North America. With this in mind, December could be the perfect time to dedicate a portion of your marketing budget to Google Ads and social media ads around Cabernet Sauvignon in these countries.
For a list of other national and international opportunities, check out 5Forests' free marketing calendar. Polly and her team recapped all of the significant wine-related dates of 2019, including World Malbec Day on April 17th, World Moscato Day on May 9th, and Rosé Day on August 14th. Use these days has an opportunity to leverage social momentum and start a marketing campaign.
3. Build your calendar ahead of time
One of the benefits of creating a campaign around a calendar event is that there are predetermined deadlines. Deadlines can be daunting, but they're often very helpful at motivating us to complete tasks in a timely fashion. In fact, a large part of the argument for marketing campaigns is precisely this.
While bigger picture marketing efforts may drag on forever and possibly never get completed (we've all been there!), campaigns provide a rigid timeframe. When completed, you'll be able to analyze the results, take those lessons on board, and apply them to the next one.
Companies with a large team and budget often begin planning their seasonal marketing initiatives up to a full year in advance! For smaller wineries, even thinking a month or two ahead can make all the difference.
Need a bit more guidance? Visit our resources page for access to our free Content Strategy PDF and loads of other content. In fact, this post is a synopsis of our monthly marketing eBook of the same name, which is also available for free at the above link.
4. Gather, create, and prepare your marketing assets
So, you've looked at your data, you've chosen which events can be piggybacked, and you've even created a calendar to keep you on top of things. Excellent! The last step now is to gather the resources you'll need to execute your plan. This includes (but is not limited to) things like imagery, copy, hashtags, incentives, and contact lists.
At Outshinery, we've created thousands of Lifestyle Images for our clients ranging anywhere from a year to a few days in advance of when they're needed. We're able to produce high-quality images with next-to-no turnaround time, and we're experts on what your audience wants to see. We release our collections months before the time of year they'll be needed, and our collections from previous years are always available year-round.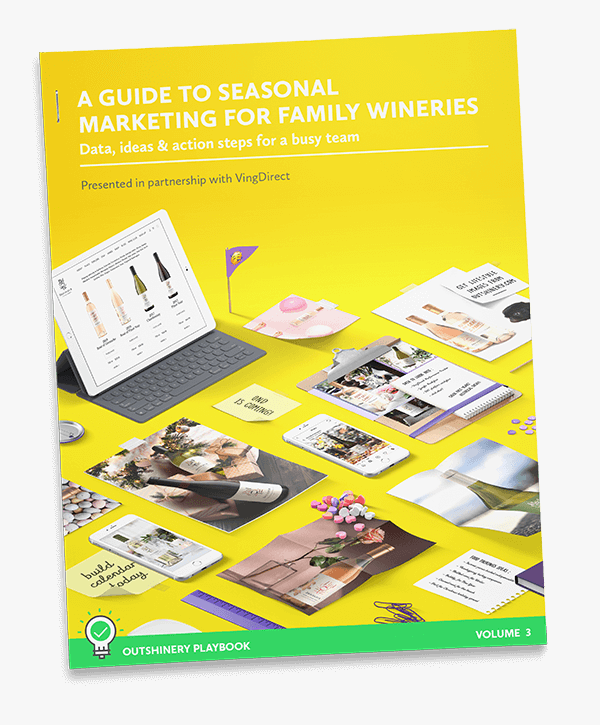 For a more in-depth look at seasonal marketing, download our free Guide To Seasonal Marketing for Family Wineries.
Presented in partnership with DtC experts, VingDirect.